Welcome to Three Degrees of Murder
This website promotes my mystery novel "Three degrees of murder"
Three degrees of murder
It's a mystery with a missing husband, a steadily rising body count, some romance, a lot of humour, and some major twists and turns.
Helen Hendricks is trying to take the disappearance of her best friend's husband seriously, but he has done this before. Add to that: the kids think they are being followed by a mysterious black car, the Book Club girls are pretending to be detectives and Delia keeps trying to set her up with the lead detective.
But the longer Bill is missing, and in a town where everyone knows everyone else, the suspects start to pile up, and it seems some very dangerous people want to know where Bill is. As Helen gets dragged into the mystery of Bill's disappearence one question remains. What would you do for a best friend?
Why?
It's called "Three degrees of murder", because in a small coastal Australian town it's only three degrees of separation, not the usual six. It's mature chick-lit crime (chook-lit?), but I'm sure the market's not swamped yet.
I haven't added vampires, but if I get offered enough money, or get desperate enough, I might do so.
The e-book is published  on Smashwords and I have an interview there.  You can see the interview on the author page.
Paper back will soon be available.
Also available
"I think too much about movies" is a free e-book anthology of the movies and TV themed blogs. Available at smashwords.
Available On Ebook Also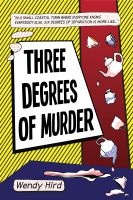 Rating:

(4.00 based on 1 review)
Published: March 31, 2013
Words: 87,840 (approximate)
Language: Australian English
ISBN: 9780987421616
Short description
Helen Hendricks is trying to take the disappearance of her best friends' husband seriously, but he has done this before. Add to that, the kids think they are being followed, the Book Club girls are pretending to be detectives and Delia keeps trying to set her up with the lead detective. Even worse, Helen is starting to suspect her best friend, Delia, knows exactly where her missing husband is